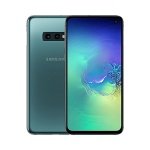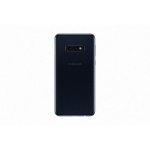 Samsung Galaxy S10e -128GB ROM, 6GB RAM
Samsung Galaxy S10e -128GB ROM, 6GB RAM
Octa-core
6GB RAM
128GB
Dual Sim
12 MP + 16 MP rear camera
10 MP front camera
5.8 Inch screen
Lithium-Ion battery
4G LTE
Samsung Exynos
Fast charging
Bluetooth v5.0
Description
Samsung ushers in a new era of smartphone experiences with the Galaxy S10e. It has been designed not just to stand out but to stand apart. The mobile boasts of HDR10 Plus certified Dynamic AMOLED screen that delivers Dynamic Tone Mapping for amazingly real hues and contrasts in each scene. Paired with stereo speakers and Dolby Atmos, the Samsung Galaxy S10e Dual SIM offers a genuinely immersive cinema-grade entertainment at the palm of your hand. The leading-edge CPU, high-speed 6GB RAM module and a mammoth of 128GB ROM come together to deliver unrivaled mobile computing performance that you can count on. Available in a stunning prism black finish, the Samsung Galaxy S10e feels just as premium as it is anticipated to be.
PHYSICAL FEATURES
KEY FEATURES
12 MP + 16 MP rear camera
SHOOT LIKE A PRO WITHOUT BEING ONE
It's an entire kit of lenses in your pocket! The Samsung S10 mobile's camera system consists of Dual Aperture and Multi-frame Composition to bring out the light in the dark. Plus, the powerful CPU automatically analyzes and combines multiple frames of the same low-light moment into one beautiful shot. The next-gen, 16MP Ultra Wide camera lets you fit in more details in each shot. The 123-degree field of view captures imagery like a human eye, so what you see is what's in the frame. The makes the smartphone a perfect choice for big panoramas and impressive landscape shots. Fit the entire extended family into the photo and make sure that you freeze the full scene into each picture. And with Ultra wide lens correction added in the equation, your wide shots won't ever be distorted.
THE FRONT CAM THAT OUTPERFORMS TRADITIONAL REAR CAMERAS
The leading-edge 10MP front camera of this Samsung Galaxy S10 4G mobile is packed with pioneering mobile innovations. It detects faces and focuses quickly for instantly share-worthy selfies in a snap. Furthermore, it lets you experiment with depth of field and artistic effects to change the mood of your self-portraits. The Dual Pixel Sensor captures action shots with super precision and clarity, for in-focus shots that are well-lit, even in low light. And now you don't have to rely on the rear camera for shooting 4K videos. The front cam of the Galaxy S10 Samsung enables you to record UHD videos so that your adventures are perfectly streamed in realistic quality by your friends and followers. Furthermore, Scene Optimizer and Shot Suggestion now more accurately processes additional scenes, offering automatic composition recommendations so that you can frame your photo better than ever.
MADE FOR A GENERATION THAT CAN'T WAIT
This Samsung Galaxy dual-SIM is ready to go all day, just like you. It is built with premium hardware and machine-learning-based software that surpasses the current generation's standards. From brand new power-sharing capabilities to Intelligent WiFi and AI-powered performance enhancement, this sleek piece is dubbed as Samsung's most intelligent device yet. It learns your daily routine and usage patterns and powers down the apps you don't need. Adaptive Power Saving Mode manages your battery life so that the bigger battery has more to offer with each full charge. The device can miraculously charge Qi-certified devices and some Samsung wearable devices so that you can power up your friend's phone, or charge your earbuds on the go without needing a power bank.
ADAPTS TO YOU SO THAT YOU DON'T HAVE TO ADAPT TO IT
No need to ration your phone usage anymore. This Galaxy S10 Samsung mobile recognizes your mobile habits and optimizes the way you interact with your phone. It anticipates your needs by pre-loading your most used apps, so they launch instantly. It reduces blue light and turns on the Night Mode to get your eyes ready for bed. And if you fall asleep without keeping your mobile on the charge, it turns off unnecessary functions running in the background to help save battery life. It even keeps your phone unlocked when you want it to be and plays music when you get in your car. You can also customize to your needs with My Routine. Make a phone call or send a text with Bixby. It recognizes your distinct voice and gets straight to work.
---
Only logged in customers who have purchased this product may leave a review.